HOW TO DOUBLE YOUR STORAGE WITHOUT BUILDING A NEW CLOSET
Written by Jaymi Naciri
No matter the size of your home or the number of closets you have, everyone is looking for more storage space. And while you may think getting the storage you need means moving or turning an entire bedroom into a new closet, there are ways to maximize the space you have.
Use Space Bags
The idea of vacuum-sealing your linens and winter clothes may seem strange, but it actually works. Does that mean you should go out and buy a dozen more down comforters? Probably not. But at least you'll have a way to store them if you do.
Create an eat-in alcove
Not only does it give you a cozy place to sit for dinner, but also adds two great places to store your dishes and linens.
"Two tall built-in cabinets on either side of this kitchen window create an instant alcove that's perfect for a comfy window seat banquette for eat-in convenience," said houselogic. You'll need 20 to 24 inches of depth to create a window seat with enough room for cushions along the back."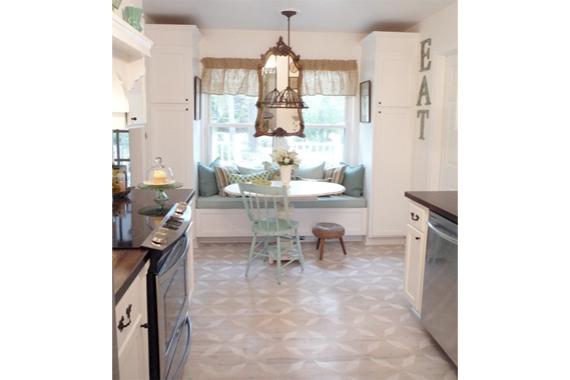 houselogic
Go up top
The top shelf of a closet often remains empty simply because it is hard to access for most people. That's what step stools are for. Slide one under your clothes or lean it against a wall so it's always there when you need it. Then, line the shelf with zippered or lidded boxes that can house your things while keeping them dust-free.
Redo your closet
Yes, you could spend many hundreds of dollars on a custom closet, which would help create more space for your stuff. You can also do it yourself for considerably less. Or, go to Lowe's and buy a closet rod that you can easily install halfway up your closet to double the amount of hanging space for a few bucks.

Demorati
Create a home office in a closet
Yes, you have to relocate your jackets and coats, but you already created so much more room in your other closets by using Space Bags! Plus, now have a dedicated place for the printer, computer, papers, and files that are hanging out all over your home.
"A little-used closet is the ideal command center for a home-based business," said houselogic. "This tucked-away office features an inexpensive desk ($100 to $300) as the main work surface. If things get messy, you can simply close the door. Chalkboard paint ($15 per quart) surrounds the door frame for quick don't-forget messages.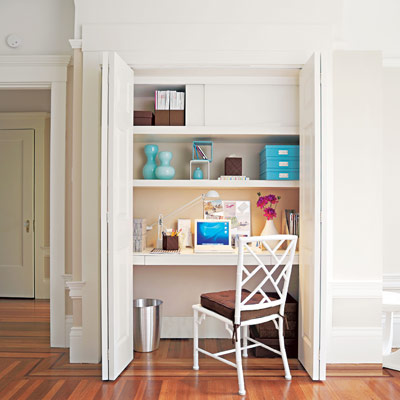 This Old House
Click Here to Read More.